Thirty-two states and the District of Columbia have expanded their Medicaid programs for residents earning up to 138 percent of the federal poverty level (FPL) under the Affordable Care Act (ACA), though the U.S. Supreme Court ruled in the 2012 case, National Federation of Independent Business v. Sebelius, that the federal government could not force them to do so. Additional background on this issue is available here and here.

In 2013, Arkansas became the first state to expand Medicaid under a federal 1115 waiver, dubbed the "private option," allowing the state to use federal funds designated for Medicaid expansion to help most of the newly eligible population purchase health coverage through the private health insurance exchanges set up under the ACA. Eight of the 32 expansion states have received an 1115 waiver, according to the Kaiser Family Foundation.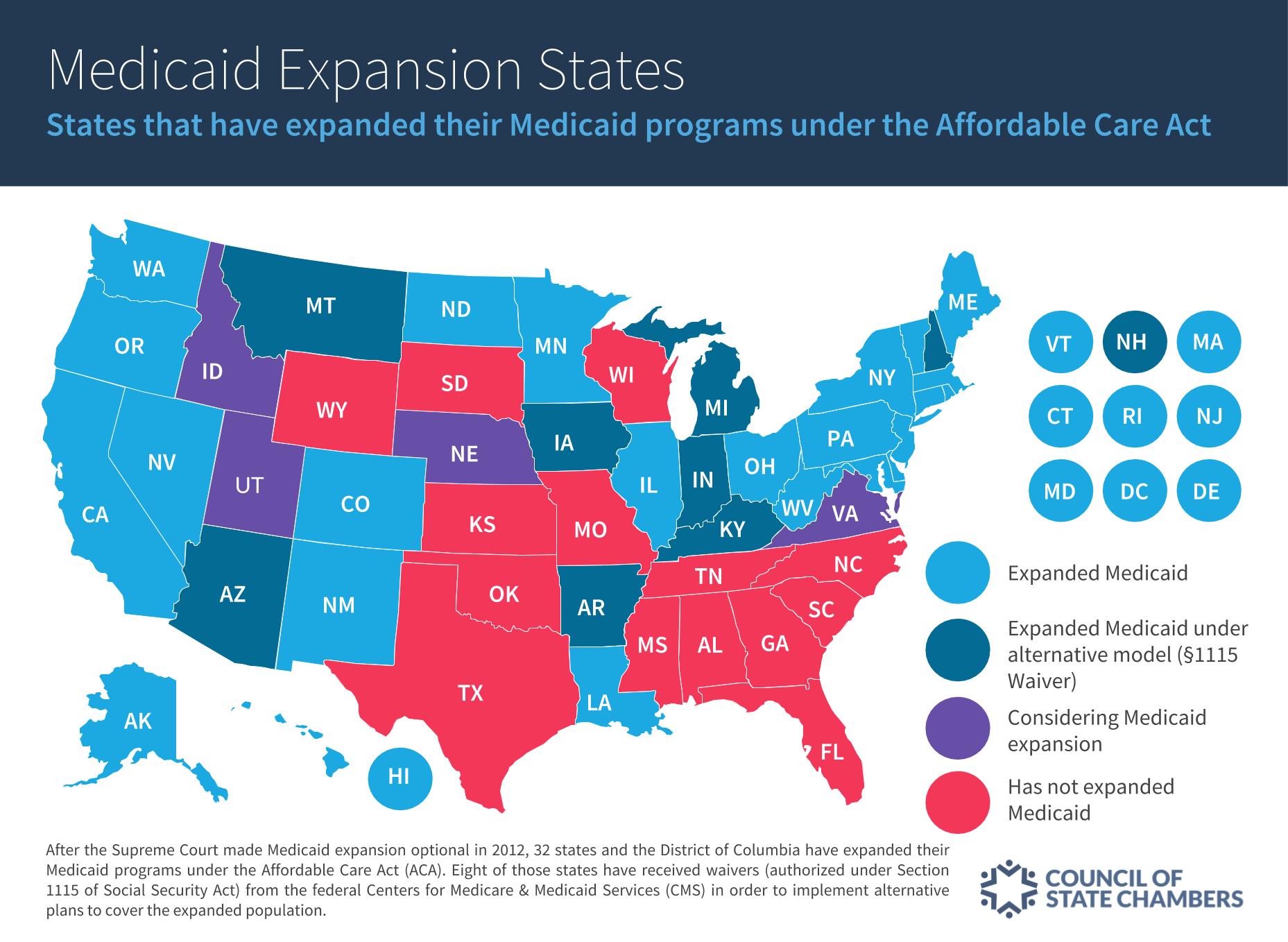 The story this year, however, has focused on several Republican-controlled states that have considered Medicaid expansion either legislatively or via ballot measures. Supporters of expansion have argued that available federal funds should be used to cover more people in need at little cost to the state, while critics question the long-term fiscal impact expansion imposes on state budgets and argue that it removes an incentive for enrollees to find employment that provides healthcare coverage.

Legislative Action
In March, after years of debate, Utah Governor Gary Herbert (R)
signed
a partial Medicaid expansion bill (
UT HB 472
). That bill will provide health coverage to 70,000 Utahns, with the stipulation that enrollees prove they are working or participating in volunteering or similar activities. It's
unclear
whether federal regulators will approve the waiver request necessary for full implementation of Utah's new expansion law.
After years of rejecting Medicaid expansion, the Virginia House of Delegates, under a thin Republican majority, came to an agreement on the terms of expansion. The House budget bill — which includes a provision to expand Medicaid — has the support of Governor Ralph Northam (D) and now awaits action in the Virginia Senate once it
reconvenes
on May 15. The expansion language includes a work requirement for Medicaid recipients and a tax on hospitals to pay for Virginia's 10-percent match, saving money from the state's general fund. However, it remains unclear whether Senate leaders can come to an
agreement
on the proposed House budget bill, setting up a potential government shutdown in July.
Ballot Initiatives
Supporters of Medicaid expansion have organized and waged ballot measure campaigns across several key states this year. In Utah, an advocacy group called Utah Decides Healthcare
submitted
signatures to certify Medicaid expansion on the November ballot. The ballot measure is looking to go further than the partial Medicaid expansion bill Governor Herbert signed in March.
Medicaid expansion supporters in Idaho announced they have
surpassed
the
56,192
signature threshold to qualify the question for the November ballot.
Governor Butch Otter (R) has
supported
a modified version of Medicaid expansion in the past. Similarly, organizers in
Nebraska
have until July 5 to collect about 85,000 valid signatures to place expansion on the ballot. Montana, meanwhile, already expanded Medicaid through an 1115 waiver, but advocates are pushing for a
ballot
measure that would reauthorize the coverage to the expansion population.
In Maine, despite voters adopting Medicaid expansion through a ballot measure last November, the debate over expansion rages on. The ballot measure required Governor Paul LePage's (R) administration to submit a state plan amendment within 90 days and implement expansion within 180 days, but Governor LePage
declined
to meet the deadline to file a plan with federal regulators. Advocacy groups and Attorney General Janet Mills (D) have continued to place pressure on the LePage administration. Each side is disputing the cost of funding expansion, which the governor claims would be $60 million during its first year and $100 million annually thereafter.